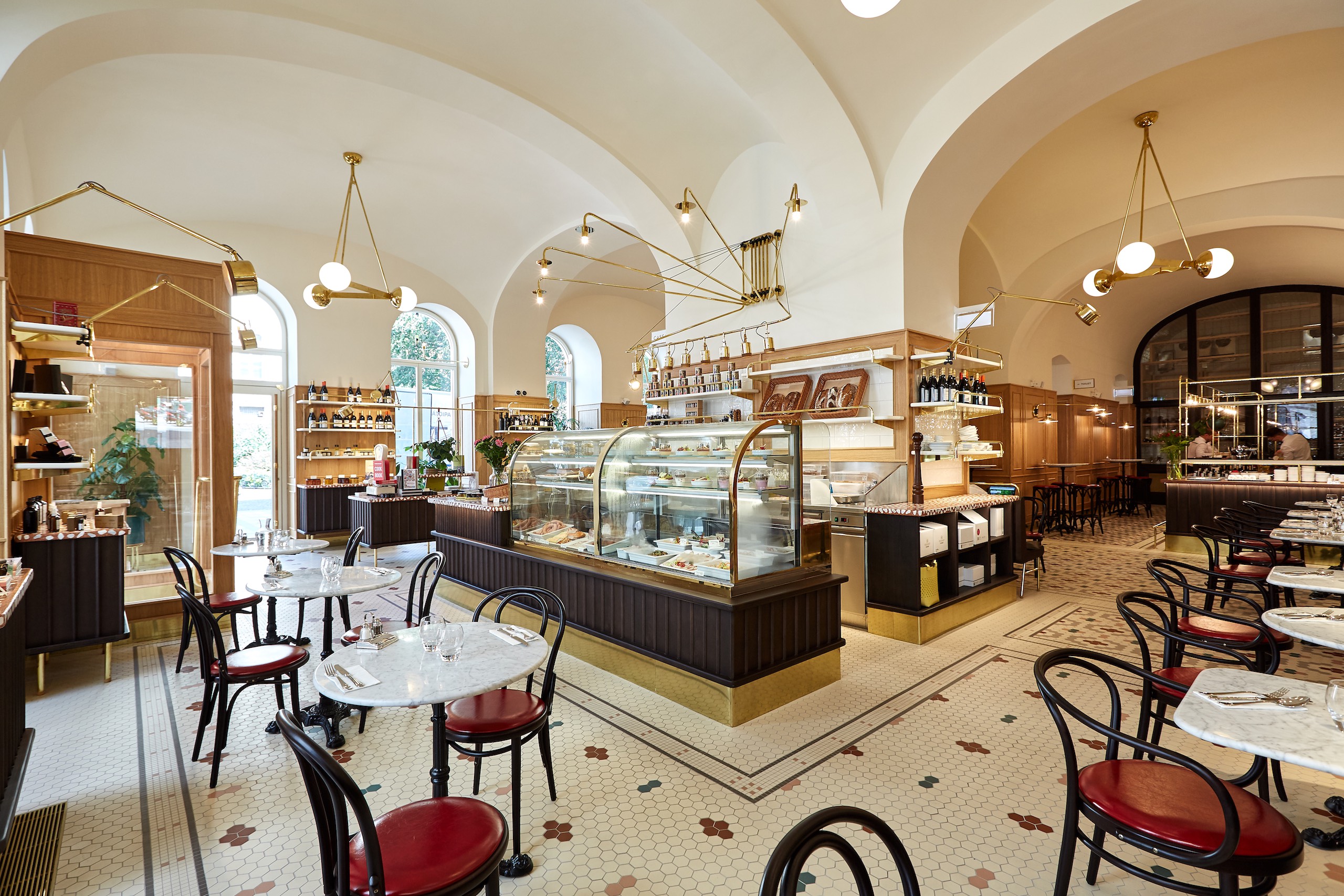 Breakfast
SMOOTHIE - 300 ML
Banana-coconut milk-peanut butter-cocoa
990 Ft

Beetroot-pear-apple-ginger
990 Ft

Pineapple-mango-strawberry-orange
990 Ft

Berries-banana
990 Ft
EGG DISHES
1 Boiled egg
290 Ft

2 Fried eggs
590 Ft

2 Fried eggs - with bacon
990 Ft

2 Fried eggs - with ham
990 Ft

3 eggs omlette /scrambled eggs
890 Ft

Omlette /scrambled eggs - Hungarian style with tomato, sausage and paprika
1.290 Ft

Omlette /scrambled eggs - with cheese and veggies
1.190 Ft

Omlette /scrambled eggs - with goat cheese and dried tomato
1.190 Ft

Omlette /scrambled eggs - with bacon
1.190 Ft

Extras: Mushroom, paprika, onion, tomato, cheese, sour cream
200 Ft

Extras: Goat cheese, sausage, ham, bacon
250 Ft

+ egg
290 Ft
MEAT DISHES
2 Frankfurter
690 Ft

2 spicy sausage
990 Ft

Roasted meatloaf
990 Ft

Royal breakfast: ham, smoked sausage, roasted meatloaf, gouda cheese, butter, optional cream, fresh vegetables, sparkling wine
2.190 Ft
BREAKFAST MEALS
Creams (1 portion) – cottage cheese with paprika powder, aubergine cream, egg cream, rilette
390 Ft

2 Savoury french toast
590 Ft

2 French toast stuffed with ham and cheese
990 Ft

Grilled sandwich - with mushroom cream
890 Ft

Grilled sandwich - with ham and cheese
990 Ft

Grilled sandwich - with sausage and cheese
990 Ft

Avocado toast – avocado cream, fresh cheese, roasted nuts
1.090 Ft

Sweet and savoury morning pastry
300 Ft

Granola, yogurt honey, fresh fruits
1.090 Ft

Porridge, sun-dried and fresh fruits, roasted almond
690 Ft

Fruit salad
590 Ft
Extras
Honey, homemade jam, butter, yogurt
100 Ft

Acai, chia seeds, plant based yogurt, plant based milk
200 Ft
Chef's specials
Starters
Hungarian marrow toast
1.290 Ft

Duck liver paté with fermented vegetables
2.590 Ft
Soup
Roasted beetroot cream soup with fish "sandwich"
1.290 Ft
Salads
Green salad with corn flakes coated chicken breast, avocado dressing
1.890 Ft

Pumpkin salad with breaded goat cheese
2.190 Ft
Main Dishes
Asian noodles with coconut curry and roasted vegetables
2.290 Ft

Börze layered potatoes with lamb sausage
2.290 Ft

Beef brisket braised in sour cream and root vegetables sauce, bread dumplings
2.990 Ft

Cabbage stew with dumplings and piglet
3.190 Ft

Roasted rose duckbreast, carrots, salted mango
3.490 Ft
Dessert
Cheese cake with mango
1.090 Ft
Drinks
APÉRITIFS
Campari
1.390 Ft

Cinzano bianco-dry-rosso
1.290 Ft

Puszta coctail
1.690 Ft
PÁLINKÁK
1-CSEPP Penyigei plum 4cl
2.290 Ft

1-CSEPP Piros veltelini 4cl
2.290 Ft

1-CSEPP Quince 4cl
2.290 Ft

BRILL Apricot 4cl
2.190 Ft

BRILL Black cherry 4cl
2.190 Ft

BRILL Raspberry 4cl
3.190 Ft

RENESZÁNSZ Pálinka selection of different flavours
1.390 Ft
SPIRITS OF VEGGIES
1-CSEPP Carrot-Celery-Squash-Beetroot 4cl
2.690 Ft
BITTERS
Jagermaister 4cl
690 Ft

Unicum-Unicum plum 4cl
690 Ft

Unicum riserva 4cl
3.190 Ft
GINS
Bombay Sapphire 4cl
990 Ft

Tanqueray 4cl
1.690 Ft

Hendrick's 4cl
1.990 Ft

Copper Head 4cl
2.490 Ft
RUMS
Havana 3 4cl
990 Ft

Clement Premiére 4cl
1.190 Ft

Clement VSOP 4cl
1.590 Ft

Panama 18 4cl
3.970 Ft
VODKAS
Absolut 4cl
890 Ft

Stolichnaya 4cl
890 Ft

Ciroc 4cl
2.190 Ft

Grey Goose 4cl
2.190 Ft
TEQUILAS
Jose Cuervo Silver-Gold 4cl
990 Ft

Patron Silver-Gold 4cl
3.190 Ft
WHISKYS
Békési Single Barrel 12 4cl
1.290 Ft

Arran 10 4cl
1.790 Ft

Dalmore 15 4cl
3.290 Ft

Jameson 4cl
990 Ft

Jack Daniel's 4cl
990 Ft

Bulleit Bourbon Frontier 4cl
1.790 Ft

Crown Royal 4cl
1.790 Ft

Akashi Blended 4cl
2.190 Ft
BRANDYS-COGNACS
Villányi EXE Brandy 4cl
1.190 Ft

Mantifaud XO Sabina 4cl
1.790 Ft

Delamain Vesper XO 4cl
4.990 Ft
LIQUEURS
Amaretto 4cl
1.190 Ft

Clement coffe 4cl
1.190 Ft

Clement Schrubb Creole 4cl
1.190 Ft

Clement Coco 4cl
1.190 Ft

Baileys 4cl
1.190 Ft

Ramazotti Sambuca 4cl
1.190 Ft
DRAUGHT BEERS
Börze Ale 0,5l
690 Ft

Börze Ale 0,3l
490 Ft

Soproni Ipa 0,5l
790 Ft

Soproni Ipa 0,3l
590 Ft

Bernard Premium Lager 0,5l
1.290 Ft

Bernard Premium Lager 0,3l
890 Ft
BEERS BY THE BOTTLE
Bigfoot Silverstreet wheat búza 0,5l
990 Ft

Bigfoot Unfiltered Prémium Pils 0,5l
990 Ft

Szent András Sour cherry 0,33l
1.090 Ft

Szent András Dark 0,5l
1.290 Ft
MINERAL WATERS
Szigetközi 0,25l
290 Ft

Szigetközi 1l
690 Ft
HOME MADE ICE TEAS
Green- Black- Forest fruits 0,5l
690 Ft
LEMONADES
Classic-Raspberry-Elder cucumber-Green apple-Ginger-Strawberry
790 Ft
ALCOHOLIC LEMONADES
Celery-limo 0,5l
1.890 Ft

Quince-limo 0,5l
1.890 Ft
GIN-TONIC
Bombay-Schweppes Tonic
1.490 Ft

Tanqueray-Fever Tree Tonic
2.790 Ft

Hendrick's - Fever Tree Tonic
2.990 Ft

Copper Head- Fever Tree Tonic
3.690 Ft
SPRITZERS
Aperol spritz
1.490 Ft

Lychee spritz
1.490 Ft

Passion fruit spritz
1.490 Ft

Hugo spritz
1.490 Ft
COFFEES
Ristretto
350 Ft

Espresso
350 Ft

Cortado
450 Ft

Double espresso
690 Ft

Long coffee
390 Ft

Esspresso macchiato
390 Ft

Double macchiato
750 Ft

Cappuccino
390 Ft

Dupla cappuccino
750 Ft

Latte
650 Ft

Melange
750 Ft

Flat white
750 Ft

Hot chocolate
600 Ft

Babyccino
90 Ft
TEAS
Green tea - Chamomile tea - Jasmine tea - Wild berry fruit tea - Fresh mint tea - Earl Grey Tea - English breakfast tea
490 Ft

Sweet almond tea
690 Ft

Sencha currant tea
690 Ft

Japanese cherry
690 Ft
Wines
FEHÉRBORAINK
ANONYM PINCE ETYEK
Glass
Bottle
Frazír Sauvignon blanc 2016
690 Ft
5.190 Ft

Színkópa Chardonnay 2015
790 Ft
5.990 Ft

Egyből kettő Zenit-szürkebarát 2016
590 Ft
4.490 Ft
DOMAINE EDEGGER PINCÉSZET BIODINAMIKUS BADACSONY
Glass
Bottle
Premier (Olaszrizling, Rajnai rizling, Sauvignon blanc) 2015
590 Ft
4.490 Ft

Helbeck Chardonnay 2015
790 Ft
5.990 Ft

Jakob (barrique Chardonnay-Pinot gris) 2015
990 Ft
7.490 Ft
SZENT DONÁT PINCE CSOPAK
Glass
Bottle
Élet a marson Olaszrizling 2016
690 Ft
5.190 Ft

Slikker Olaszrizling 2015

9.690 Ft

Márga Furmint 2015
890 Ft
6.690 Ft
VÁRSZEGI PINCÉSZET BADACSONY
Glass
Bottle
Irsai Olivér-Sárgamuskotály 2016
490 Ft
3.690 Ft
RECAS PINCÉSZET ERDÉLY
Glass
Bottle
Sole Királyleányka 2015
790 Ft
5.990 Ft

Sole Quinta Házasítás 2016
1.190 Ft
8.990 Ft
KOVÁCS ÉS LÁNYA BORÁSZAT MÁTRA
Glass
Bottle
Viognier 2016
590 Ft
4.490 Ft
LUDÁNYI BALÁZS MÁTRA
Glass
Bottle
Centurio Olaszrizling 2016
990 Ft
7.490 Ft
BABARCZI SZŐLŐBIRTOK ÉS PINCE PANNONHALMA
Glass
Bottle
Irsai Olivér 2016
690 Ft
5.190 Ft
TORNAI PINCÉSZET SOMLÓ
Glass
Bottle
Nagy-somlói Juhfark 2016
690 Ft
5.190 Ft
HEUMANN PINCÉSZET VILLÁNY
Glass
Bottle
Rajnai rizling 2015/2016
990 Ft
7.490 Ft
HOLDVÖLGY PINCE MÁD, TOKAJ
Glass
Bottle
Vision birtokválogatás 2015
890 Ft
6.690 Ft

HOLD AND HOLLÓ száraz válogatás 2015
1.290 Ft
9.690 Ft

Expression Hárslevelű 2015

14.190 Ft

Meditation Furmint válogatás 2015

14.190 Ft
Vörös bor
DOMAINE EDEGGER PINCÉSZET
Glass
Bottle
Hilare (Cabernet Sauvignon, Pinot Noir, Merlot) 2013

7.490 Ft

Pinot Noir 2015
990 Ft
7.490 Ft

Georg (Cabernet Sauvignon, Merlot) 2013

8.190 Ft
SZENT DONÁT PINCE CSOPAK
Glass
Bottle
Magma Kékfrankos 2015
990 Ft
7.490 Ft
KONYÁRI PINCÉSZET BALATONLELLE
Glass
Bottle
Malbec 2015
1.090 Ft
8.190 Ft
PASTOR PINCE SZEKSZÁRD
Glass
Bottle
Bikavér 2013 (kékfrankos, cabernet franc, cabernet sauvignon, kadarka))

6.690 Ft
MERFELSZ GÁBOR SZEKSZÁRD
Glass
Bottle
Petit Tsokoláta Merlot 2014
990 Ft
7.490 Ft
HEUMANN PINCE VILLÁNY
Glass
Bottle
Syrah 2012
1.290 Ft
9.690 Ft

Terra Tartaro Bordeaux cuvée 2011
1.890 Ft
14.190 Ft

Kadarka 2015
690 Ft
5.190 Ft
KOVÁCS NIMRÓD EGER
Glass
Bottle
Bikavér Superior 2012
1.290 Ft
9.690 Ft
HAVAS ÉS TÍMÁR PINCÉSZET EGER
Glass
Bottle
Franom Cabernet franc 2014
990 Ft
7.490 Ft
KOVÁCS ÉS LÁNYA BORÁSZAT MÁTRA
Glass
Bottle
Fajzat 2015
890 Ft
6.690 Ft
ÉBNER PINCÉSZET SZIGETVÁR
Glass
Bottle
Pinot Noir 2015
690 Ft
5.190 Ft
BALLA GÉZA ERDÉLY ARAD
Glass
Bottle
Feketeleányka 2015
890 Ft
6.690 Ft
ROZÉ BORAINK
Nyolcas és Fia Borház Eger
Glass
Bottle
Rosé cuvée 2016
690 Ft
5.190 Ft
PASTOR PINCÉSZET SZEKSZÁRD
Glass
Bottle
Kékfrankos Rozé 2016
690 Ft
5.190 Ft
ÉDES BORAINK
HOLDVÖLGY PINCE MÁD TOKAJ
Glass
Bottle
EExaltation édes sárgamuskotály 2013 50cl

12.690 Ft

Eloquence szamorodni 2007 50 cl

12.490 Ft

Intuition No1 50 cl

12.490 Ft

Signature 50 cl

14.990 Ft

Culture Tokaji 6 puttonyos 2008 37,5cl

24.990 Ft

HOLD AND HOLLÓ édes válogatás
990 Ft
7.490 Ft
KARDOS SZŐLŐBIRTOK TOKAJ
Glass
Bottle
Tündérmese 2016
890 Ft
6.690 Ft
DERESZLA PINCÉSZET
Glass
Bottle
Tokaj 5 puttonyos aszú 2010
1.990 Ft
9.890 Ft
HABZÓ BOROK
FÖLFÖLDI PINCÉSZET
Glass
Bottle
Bodzapezsgő
590 Ft
4.490 Ft

Hablegény
690 Ft
5.190 Ft

Hableány
690 Ft
5.190 Ft
KREINBACHER BIRTOK SOMLÓ
Glass
Bottle
Brut classic
990 Ft
7.490 Ft

Brut Rosé
1.390 Ft
10.490 Ft
RÁCZ LILLA VILLÁNY
Glass
Bottle
Sauvignon Blanc Brut Nature
1.390 Ft
10.490 Ft
VEUVE CLICQOUT CHAMPAGNE
Glass
Bottle
Brut Nature

24.990 Ft

Brut Rosé

27.990 Ft
Reservation
BOOKING POLICY FOR PEAK HOURS:
From 07.02.2018 we would like to kindly inform our Guests, that Börze's booking policy for peak times has been changed as follows:
According to our booking policy we can provide your table for two and a half an hour during peak time. If you running late on your booking we are keeping your table for fifteen minutes.
Thank you for your understanding.
Peak time:
From Friday 6.00pm
Saturday all day
Sunday – breakfast – lunch (until 6.00pm)